What is Mesotherapy?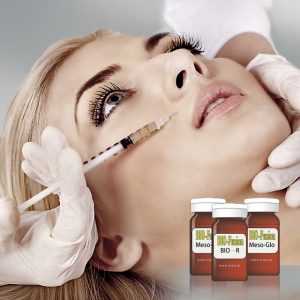 Mesotherapy, sometimes called rehabilitation therapy, can help make you look younger as well as stimulating your body and its immune system.
Pioneered by French physician Dr. Michel Pistor in 1952, Mesotherapy is a non-surgical minimally invasive, yet highly effective procedure that is widely used in Europe to treat various aesthetic concerns of the skin as well as injuries and medical conditions. This specialized procedure targets problem areas with microinjections of conventional or homeopathic medicines, nutrients, vitamins, minerals and amino acids. These micro "medicinal bullets" are delivered via microinjection or infusion directly into the dermal layer of the skin in and around the site being treated using special techniques.
Liliana and the NAA Clinic are pioneers in Meso-Aesthetics in Canada having offered since 2004.  Continuously researching and updating her knowledge, Liliana offers the latest proven methodologies, products and unique protocols including classic mesotherapy, computer assisted meso, non-needle mesotherapy with Dr. Meso Infusion or Dr. Meso Oxy-Infusion.
Mesotherapy is a bonafide alternative to surgical facelifts, liposuction, and aggressive lightening chemical peels.  The procedure is virtually painless and supports the normal functions of the skin as well improved cell turnover and enhancing the skin's natural repair abilities.
Side effects and Restrictions
Side effects of the procedure may be a possible reddening, swelling and/or bruising around the area of the injections. These symptoms generally disappear in a matter of hours. Mesotherapy is generally suitable for most people. There are no age restrictions.
General restrictions vary with conditions treated and will be discussed before treatments are administered.
Mesotherapy is highly effective for the following:
Reduction and elimination of wrinkles
Reduction of fine lines of the skin
Neck and hands biorevitalization
Skin toning & lifting
Skin radiance & pigmentation
Dark circles
Acne & acne scars
Stretch marks
Botox alternative
Body Contouring
Cellulite elimination
Elimination of localized & spot fat deposits
Alopecia
Treatment of chronic pain